The Toggle Effect: Emotional Balancing in 3 Steps Utilizing 5 Element Approach

Unleash the Power of Chi by Bringing Emotions into Balance. Learn How Pulse Points Activate Emotional Triggers. Feel the Change Instantly at Your Finger Tips.
Cognitive polar Transformation (CPT) is a mental focus technique that converts excessive emotions to a more balanced state.

 

Through our research with we have discovered emotional stress imbalances can be brought to balance using this technique.

 

We have incorporated the Oriental model of 5 element Process and pulse diagnosis mapping into the teaching of this technique to guide practitioners to the appropriate emotions for specific meridian balancing, yielding specific health benefits.

 

This process is a simple, but profound access to the mind body connection which is already mapped out in Oriental Medicine.

 

Local therapists are utilizing CPT to assist in their treatment programs.

 

The course teaches practitioner the technique and CPT's 5 Element correlation along with the pulse balancing potential.
This 8 hour course is taught live via GotoMeeting Monday through Thursday from 430pm to 630 pm EDT
Day 1, Cognitive Polar Transformation, Basic Technique
Day 2, Integrate 5 Element Process
Day 3, Pulse Balancing
Day 4, Treatment Integration
Class is scheduled for:

October 11 - 14, 2021 (NCCAOM Members Only)
A limit of 15 attendees per class will be accepted, so that each attendee gets a full understanding of the information being covered.
Emotional Polarity and The 5 Elements
This 8 hour online course gives you the tools you need to guide your clients through the simple process of bringing excessive emotions back into balance. This approach to healing can be offered to your patients over the phone or in person, during office visits. The results can be felt right at your finger tips in the pulses. Sign up today, seating is limited.

Right click and then SAVE AS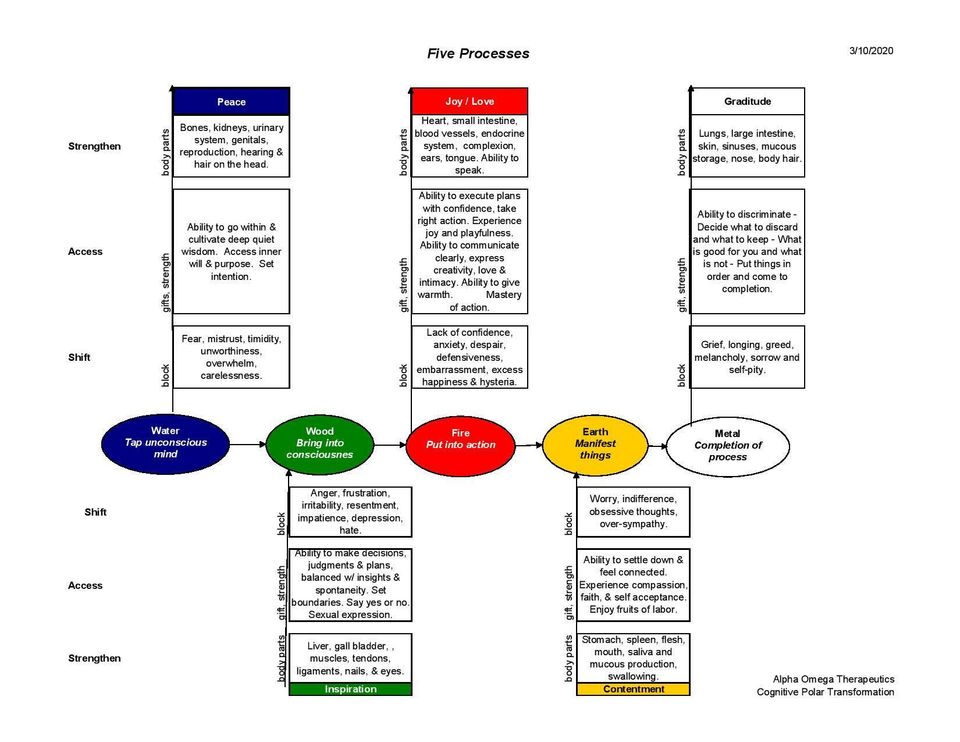 Only 15 attendees per class will be accepted. If the class you request is full, we will gladly refund your money.
Class Review:
Laurie was very professional and well organized. Her visual aides were incredible.  I am a Five Element practitioner and she gave me insights into the Five Elements I had never understood before. Her examples of treatment were very useful.  There was adequate time for questions and answers. I would recommend this on-line class for anyone interested in emotional healing.
Jerrie Lynn Nelson, Lic Ac., M. Ac.
Laurie's research and knowledge into this subject is phenomenal. As a healer (DOM), I realized early on many of my patients would reach a plateau either with me or other healing modalities. This will give me that missing link to release patient's emotional barriers to a healthier happy life.
Linda Sullivan, Doctor of Oriental Medicine Albuquerque, NM
My first CPT session was when I was in Acupuncture School. I was having trouble with material retention, had a lack of focus and test anxiety. The session with Laurie resulted in a drastic change in my ability to retain material, focus in class and take tests. My GPA rebounded and my scores stayed between 98-100 the rest of my school career. As a practitioner and Therapist of CPT, I have worked with students who faced similar issues to my own, although they were middle and high schoolers. The younger students grasped the concept much more readily and were able to achieve immediate results in their ability to retain material and focus in class. Generalized anxiety improved significantly and as students were taught how to use this method on their own, they felt more in control of their lives and emotions. I highly recommend this for students with ADHD, ADD, memory or focus problems. In addition this works well for students who are in need of improved social skills and increased confidence around peers.
I successfully use Cognitive Polarity Therapy, for children with PTSD, ADHD, ADD and generalized anxiety about life. The youngest clients were 6 and the eldest is age 83.
Dr Babette Saenz, MPA, DOM
I was referred to Laurie by a friend, who is a therapist and a life coach. She told me that for the kind of trauma I had been exposed to, Laurie had in interesting approach that seemed more geared for someone like myself. I immediately felt comfortable with Laurie. She was able to help me to express some of my emotional baggage concentrating on my actual emotions and the pain and illnesses without really talking about the actual incidents that created the trauma. As our sessions continued, she was able to guide me through her process almost effortlessly. I was able to visualize my own trauma in such a new way with caring and understanding towards how it fractured me and how I carried it in my physical body. I was able to "toggle" the negative emotions by confronting them on my own terms in my own mind which not only allowed me a new sense of peace, but re-instilled the self confidence and trust in my own persona that I had lost along the way. I had been in traditional talk therapy for about 28 years. I had tried hypnotherapy, craniosacral massage, emotional release, essential oil therapy, Bach flower therapy and supplementation diets to help emotional and physical pain. Nothing has worked to the degree the Toggle Effect has and in such a very short time. I am overwhelmed at the amount of healing that has been accomplished in less than a year. My sleep patterns have improved, my confidence and decision making have elevated greatly and most of all my pain is subsiding. I am more understanding, forgiving and have learned to set good boundaries and positive goals with good intentions and follow through. I am so very grateful that I have gone on this journey with Laurie, she literally has taught me how to take my life ba
ck
-Sherry Slone-Rachauskas